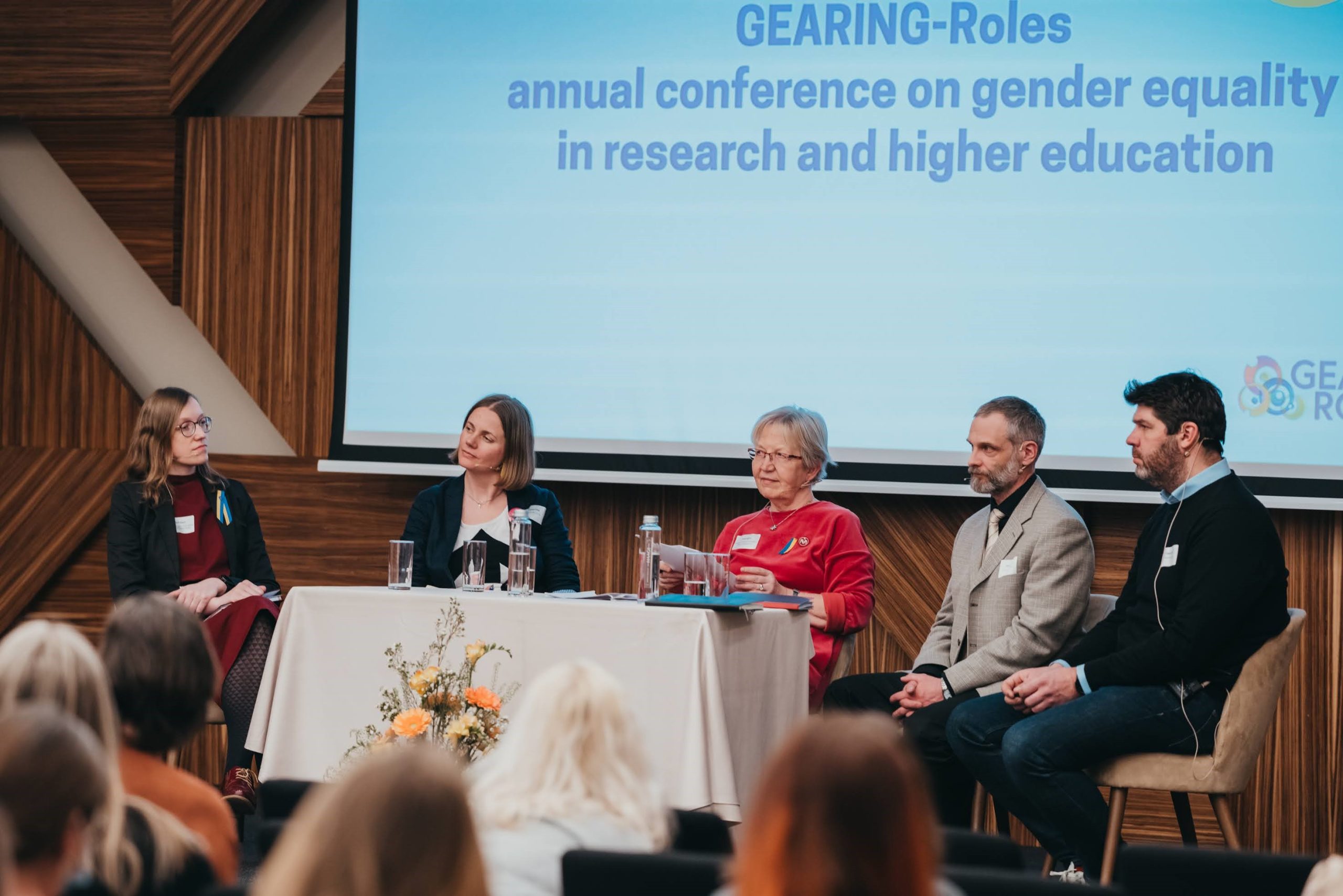 27 Jun

GR annual conference in Estonia

On the 30th of March 2022, the GEARING-Roles annual conference on gender equality in research and higher education took place in Tartu, Estonia.

We welcomed consortium partners and attendees online and – finally – in person at Tartu's V Spa Hotel and Conference Centre. Tartu is Estonia's second largest city and home to the University of Tartu. The University is Estonia's oldest and largest higher education institution, making Tartu the centre of Estonian academic life for almost four centuries – and the perfect location for our annual conference.

While it was below zero degrees outside, the conference started with a warm welcome and a warm cup of coffee. Barbi Pilvre, Associate Professor at Tallinn University, and our conference moderator, then kicked off the proceedings. We started off with opening statements from Renno Ventral (the Deputy Secretary General for Research and Development, Higher Education, and Vocational Education and Training Policy at the Ministry of Education and Research of Estonia), Karin Jaanson (Executive Director at the Estonian Research Council), and Maria Silvestre (Scientific Coordinator of GEARING-Roles and Professor at the University of Deusto).

We then heard from Mathias Nielsen (Associate Professor at the University of Copenhagen) who joined us via Zoom about the gender dimension in research. The presentation also discussed how to avoid asking whether a survey participant is male or female; instead, the two-step method should be used, asking what sex the participant was assigned at birth and what their current gender identity is. Raili Marling (Professor at the University of Tartu) presented on intersectionality in research; which acknowledges unique experiences of discrimination and oppression. Raili Marling emphasised that gender should never be treated as a "standalone category".

The presentation was followed by our first panel discussion with Anne Laure Humbert (Director of the Centre for Diversity Policy Research and Practice and Professor at Oxford Brookes University), Roman Kuhar (Professor at the University of Ljubljana), Karin Jaanson, Zeynep Gülru Göker (University of Sabanci), Maria Lucinda Fonseca (University of Lisbon), and Laia Tarragona (GEARING-Roles' Project Manager and Researcher at University of Deusto). Each shared main achievements and challenges faced of implementing Gender Equality Plans (GEPs) in their respective research organisation.

For instance, Zeynep Gülru Göker at the University of Sabanci in Turkey, had implemented a self-assessment tool based on SDGs for the curriculum, assigned a new psychologist, and extensively involved students in project activities. Karin Jaanson from the Estonian Research Council presented their five objectives, the fifth objective being the implementation of a gender-sensitive communication strategy.This included the monitoring of representation in illustrative materials and trying to ensure gender balance among the speakers at public events.

After the first panel discussion with great questions from the audience and participants online, we took a one-hour break to have a lovely lunch together. At two in the afternoon, it had started snowing outside, and we began the second half of our annual conference. Helen Urmann (University of Tartu) presented the results of the study "Gender Equality in Estonian Science – Current Situation and Ways of Improving", including statistics on gender equality in the Estonian science space. Notably, she stated that more women than men acquire higher education in Estonia (63,6% in 2019), but less women reach higher academic positions (26% in 2019). This issue is called the "leaky pipeline" problem. The study also showed that the academic landscape in Estonia is perceived as gender neutral – inequalities are primarily seen as a result of personal choices rather than because of an inflexible system. This also led to an interesting discussion on which factors influence an academic career. Next, Triin Roosalu, Associate Professor at Tallinn University, presented the study "Reducing the Gender Wage Gap".

Our second panel discussion looked at the current state and main challenges of gender equality in Estonian research. The discussion, which concluded this year's GEARING-Roles conference, included Anne Kahru (National Institute of Chemical Physis and Biophysics), Marek Sammul (University of Tartu Narva College), Ester Oras (University of Tartu), Siim Espenberg (University of Tartu), and Kristjan Vasil (University of Tartu).

Later in the evening everyone got together again for a delicious dinner in Tartu. On the second day a GEARING-Roles pairing event titled "Research Funding and Gender Equality: looking into the future" took place in the Tartu as well. The next – and last – GEARING-Roles annual conference will take place in Brussels.