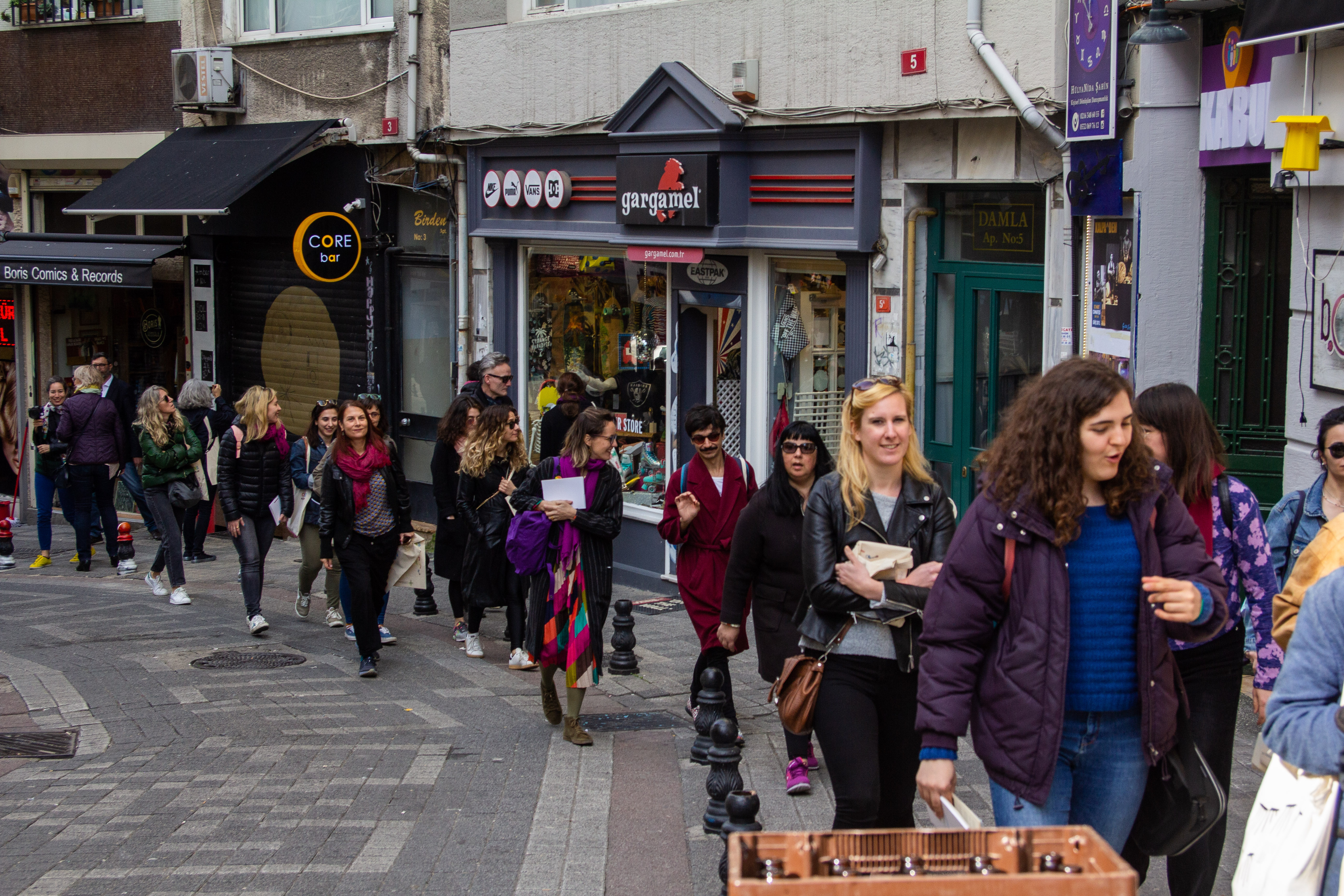 03 May

Feminist Walking the City

What do we see when we look at the city?: "Gender, City and Space" an Event Series by Sabancı University Gender and Women's Studies Center for Excellence (SU Gender)

"Walkers are 'practitioners of the city,' for the city is made to be walked. A city is a language, a repository of possibilities, and walking is the act of speaking that language, of selecting from those possibilities. Just as language limits what can be said, architecture limits where one can walk, but the walker invents other ways to go." Rebecca Solnit, Wanderlust: A History of Walking

It is challenging, yet vital to find ways for the feminist thinking to be included in the way we conduct our daily lives, as well as for academia to respond to the everyday questions we may have. It is also necessary for us to rethink some of our daily practices, such as walking, as methods of knowledge production, which also have the potential to unsettle the traditional thoughts of what academia looks like while at the same time opening it up to groups whose contribution to collective knowledge production has been historically overlooked.

Walking as a way of getting to know the spaces around you, the residents who inhabit those spaces, the passers-by who temporarily come into those spaces or the walkers themselves, has been adopted more and more in the various fields of social sciences. SU Gender has been organizing gender and memory walks in Istanbul, under the name "Cins Adımlar / Curious Steps" since 2014, where walking as a discovery process is emerging again and again as an important process particularly due to the unique aspect of each walk, its temporality as well as the people participating. These walks, have inspired many people including SU Gender members themselves, to think about the relationships we have to the cities we live in and we visit, our relationship to the spaces in material and dematerialized forms and how these connect to our to experiences of the world and our gendered practices. From these thoughts and experiences, we organized a series of events entitled "Gender, City and Space" to celebrate Women's Day on the 8th March, this year.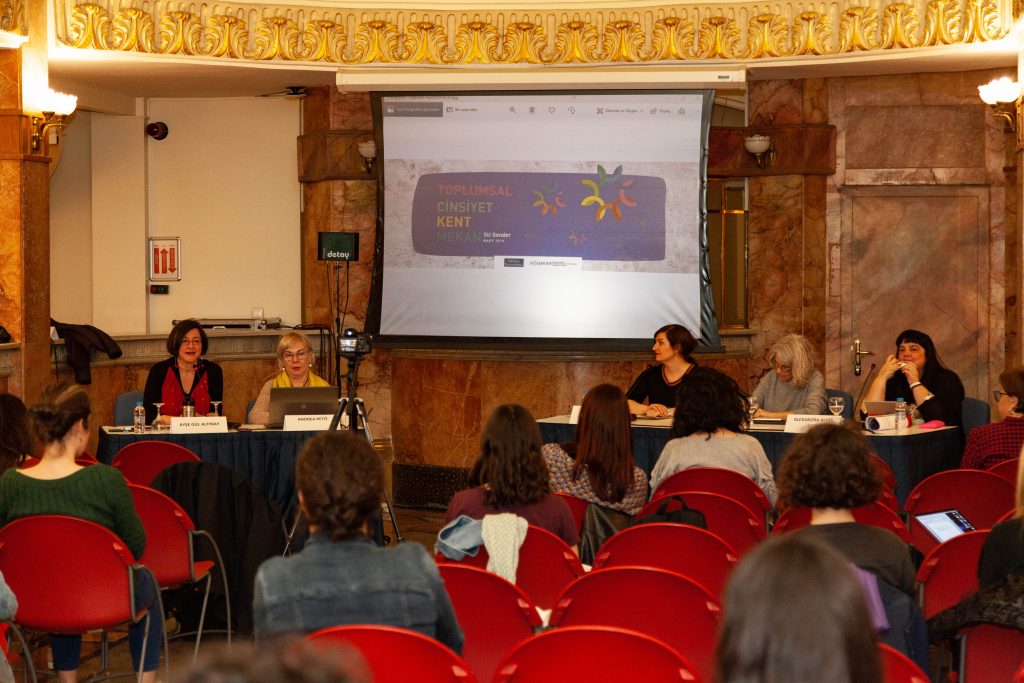 What does it mean to experience the city as who we are?
On March 9th, we were accompanied by Andrea Petö from Budapest, Margarida Queiros and Alexandra Luis from Lisbon and Linda Unger from Bochum on our walk around one of the oldest neighborhoods in Istanbul: Kadıköy. We invited them to walk with us and later to share ideas about the process of walking together. Particularly,as they are also organizing feminist walks in their respective cities, each of them with their particular approach to what it means to walk the city together.
The first panel of the event was entitled: "Walking the City Together: Feminist Pedagogies." The first participant in this panel was the Professor of Gender Studies from the Central European University, Andrea Petö, who discussed the origins of the walks she has been organizing in Budapest from two perspectives: the first as a novel approach to tourism and the second as a search for the stories of women in the city and therefore, as a way for activism and outreach. Professor Margarida Queiros from the Institute of Geography and Spatial Planning at University of Lisbon, also on this panel, presented the "Aleph" web documentary project, where their team considered how the architectural design of the city affected the lives of young university students, by analysing their daily experiences of the spaces around them. In her presentation, Alexandra Alves Luis from Associação Mulheres sem Fronteiras, Lisbon, explained the different methods they use as an NGO to experience the city as diverse groups of women and the transformative effects of walking the city from a feminist perspective. These included, feeling more free and empowered when working together as a group of women, as well as enriched when learning about women who had lived in the city and who has achieved great things. On the other hand, Linda Unger from Women's Archive, Bochum, focused on the effect of rewriting the history of a city by reclaiming the women's space within it, especially in a place like Bochum where men's stories have taken precedence due to the their prevalence in the industry there.
The second panel opened up a space for wider use of walking as a methodology, with speakers from Turkey, Aylin Vartanyan, Nazlı Tümerdem, Hazal Özalkan and Serkan Taycan. The Professor of Critical Reading and Writing from Boğaziçi University, Aylin Vartanyan, invited the audience to think about 'walking' as a method of gathering knowledge and sharing it through experience and affect. Architect Nazlı Tümerdem talked about her project "Istanbul Walkabouts", which aims to walk through the routes in sparsely populated peripheries of Istanbul which have been restricted due to construction projects or large buildings. Within her presentation, she touched upon 'critical walking' as a way of gaining a better understanding of neoliberal top-down policies in urban scapes. Hazal Özalkan, on the other hand, spoke about the Karakutu Association, who are organizing memory walks in Istanbul alongside youth groups, in a hope that storytelling has a transformative effect on young people and how they relate to the past of the city they live in. Moderating the two panels, Ayşe Gül Altınay and Sema Semih also shared the short history of 'Curious Steps' and SU Gender's learning experiences when exploring gendered memories through walking and storytelling in three Istanbul neighborhoods.
All these presentations and the discussions encouraged us to rethink relationships between body, space, memory and gender in novel ways and invited everyone to explore the potentials of walking as a feminist pedagogy. They all showed that walking is capable of: discovering the interaction between space and body and between bodies, while also being a tool for visual and expressive arts. In fact, by looking at the architecture of a city we may be lead to think about the politics and history that lays behind it and thus, we are able to identify which memories and historical moments are kept intact, and which are erased from collective and personal memories.