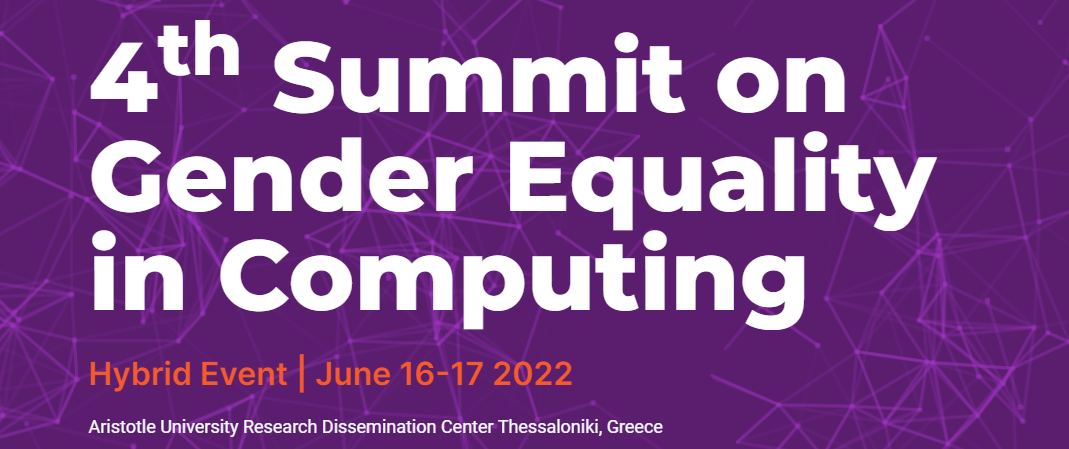 05 Sep

Act Together against gender inequality: our thoughts on the 4th Summit on Gender Equality in Computing

In mid-June, GEARING ROLES attended the 4th Summit on Gender Equality in Computing in Thessaloniki, Greece. The Summit focused on rendering computing-related fields more accessible to all genders and encouraging everyone to prosper in the digital professional sphere. Over two days, diverse stakeholders such as researchers, students, academia and professionals, all from different backgrounds – Legal, Social and Computer Sciences – gathered together to listen to panel discussion on this topic.

The Summit stimulated numerous fruitful discussions regarding gender disparities and gender stereotyping in academia and the Computing fields. These included:
the need for solidarity and social responsibility in supporting researchers at risk, particularly those fleeing conflict and life-threatening situations; and
providing mentorship for women who need support navigating sectoral change.
The Summit also called for the reduction of existing gender inequalities in the computing fields and academia, particularly through its workshop titled 'Act Together' which highlighted the role of the EU-funded, H2020 projects focused on gender-related issues. The workshop delivery was a joint contribution from 8 EU-funded projects: UniSAFE; EUGAIN; RESET; ATHENA; LeTSGEPs; CALIPER; Gender STI and our project – Gearing Roles. The Project Manager of Gearing Roles, Laia Tarragona, presented our achievements – the design, implementation and evaluation of 6 Gender Equality Plans in 6 different partner universities – and further emphasised the project's broader aspiration of producing an effect on the EU institutional level through data-driven policy.
The Summit paid particular attention at maintaining a line-up of gendered balanced speakers, while cultivating a space for empowering and successful female leaders from the computing and academic sphere who shared personal career insights and advice. The Summit engaged a crowd of more than 100 people, with a strong youthful representation. In fact, students' voices were holistically included in the event by having a dedicated space for exhibiting their personal work steered towards human technological empowerment.
From a practical perspective, the attendees showed great interests in the workshop 'The Matrix' led by Diffus Design. The workshop constructed a creative intersectional prism by encouraging the audience to think broadly and imaginatively about computing concepts such as Artificial Intelligence, Machine Learning and Internet of Things against the backdrop of social dimensions such as gender, ethics, human rights and culture. The results were showcased visually through drawings that were thought-provoking and captivatingly reflective of how we see and how we strive to see the interplay between the mentioned concepts.
Gearing Roles is honoured to have had the chance to take part at the Summit in celebrating and disseminating the achievements of H2020 projects and the work of computer professionals. Hopefully, once placed in a broader action plan, many of the ideas and measures participants put forward will effectively contribute towards reducing gender stereotyping and inequalities in the computing-related fields.